Photos from our 2016-2017 Season
Photos from our 2014-2015 Season
Summer 2015 Field Trip to Funk's Grove — Tour Led by Emma Funk
May 12, 2015  The final branch meeting for the 2014-2015 year was to the Pettingill-Morron House in Peoria.
May, 6, 2015   The BGBC (Bad Girls Book Club) meet on Susan Scott's Porch in May to recommend and select books for the following year.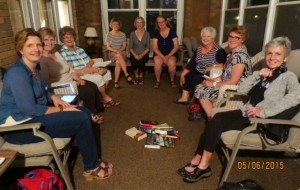 Morton AAUW Branch Meeting, January 13, 2015
"Black and White" was apparently the announced dress code for January meeting!
Simplify your life by getting organized by Kate Varness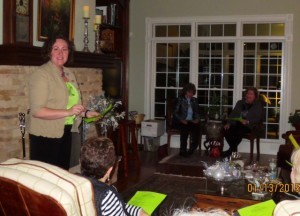 Morton AAUW Christmas Party at Savory House, Main Street, Morton.
We had a great time reading favorite holiday memories and then guessing to which member each story belonged.  We also learned the history of some favorite Christmas carols, and then sang these carols together.
AAUW Fundraiser Arts in the Park Concessions, July 10, 2014.  A banner night for AAUW, these women raised more than $838 in a single evening!
Suzanne Ligon (AKA "The Popcorn Lady")
Suzanne Ligon and Cheri Patterson wonder just how much more popcorn the fine people of Morton can possibly eat!
Roberta Beutel minds the cash box and the selection of sweet treats.A truly successful night, thanks to the evening's volunteers, AAUW raised more than $800.00!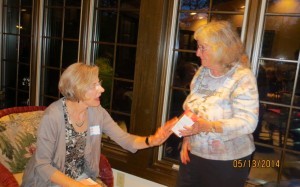 Linda Young with Lois White, "The Hummingbird Lady".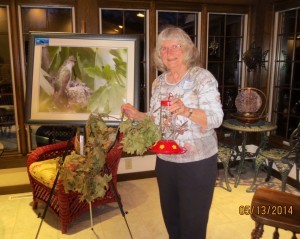 Lois White "The Hummingbird Lady" delivers an enlightening presentation about the feeding, nesting habits, habitats, migration patterns, and all things "hummingbird".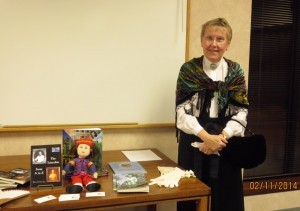 Betty Carlson Kay portrays Elizabeth Todd Edwards at the February branch meeting.
MAGIC AT BASTA'S!  Our very own Judy Griffin amazes us with her performance during our Christmas get together at Basta's in Morton.