BAD GIRLS BOOK GROUP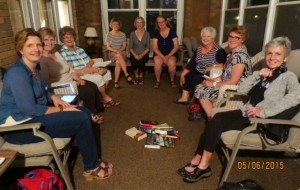 Open to all members, this book club is enlightening and enjoyable.  It is also rather "laid-back".  You are welcome to attend regularly or just occasionally; whether you wish to enter the discussion or just listen; and whether or not you have read the book!  Please join us.
THE BASICS:  We meet the first Wednesday of every month September to June, starting promptly at 7 and ending by 8:30.  Judy Griffin will solicit a wineglass count the week before each meeting (including discussion meetings) so our hostess will know who is coming.  Hostesses will provide wine and wineglasses – NO ONE HAS ANY OBLIGATION TO BAKE OR MAKE OR SERVE FOOD AS A HOSTESS. The object is discussion, not entertaining.  If members want something OTHER than wine, each can bring her own…water, soda, cocktail, latte, espresso, tea, lemonade etc.  Please consult the monthly newsletter for locations of each month's meeting.  
Some months, instead of discussing a particular book as a group, we will be have a general discussion. The discussion leader is encouraged to give a short (10 minute) presentation of a book she has read.  In addition, we will hash over books we've read, movies we've seen, magazine articles that stopped us in our tracks…whatever seems appropriate for the intelligent, quirky, and somewhat sophisticated (Ahem!) group that we are.  Please click below to see the selection and a brief review of the books selected for this year's discussions.  Also, please note if there is a month that that is still open and consider volunteering to lead a discussion with this lively group!
2022-2023 Book Group Selections
2021-2022 Book Group Selections
2019-2020 Book Group Selections
2018-2019 Book Group Selections
2017-2018 Book Group Selections
2016-2017 Book Group Selections
2015-2016 Book Group Selections
2014-2015 Book Group selections